UP NEXT AT BATCO jUNE 28TH & 29TH
"THE CROOKED ROOM"
Starring jerrie johnson &
Directed by Adrianna Mitchell
QCC + BATCO @ AAACC
The Crooked Room, a collaborative surreal theatrical experience, created by 2 A.C.T. MFA alumni, takes us on the journey of a Queer Black woman fasting alone in a room attempts to take vows of silence but is plagued by the loud thoughts that surface. Brutality at the core of the American Dream and the generational debris that follows comes to a head in The Crooked Room, where "closed mouths don't get fed."
Presented by BATCO & QCC
8PM Fri June 28
2PM & 8PM Sat June 29
At the African-American Art & Culture Complex
Starring Jerrie Johnson
Directed By Adrianna Mitchell

$15 for Students & Seniors
$20 for General
$35 for Center Seating
$50 for Support the Artist Tix
is a recent Alumni from the American Conservatory Theater's Masters of Fine Arts program. She will soon be playing Titania in CalShakes' upcoming production of Midsummer Night's Dream. Her regional credits include Belle in ACT's A Christmas Carol, OG Howland/Hawkins understudy for Men On Boats, The Nina in Airness and Phebe and Celia in As You Like it at Chautauqua Theater Company and Olga in Three Sisters.
Johnson is excited to be bringing The Crooked Room to the Queer Arts Festival. "As a Queer Art Activist, it is my duty to tell my story, truthFULLY and unapologetically. It is my right to push up against the patriarchy and challenge white supremacy through my art, thus beginning the journey to
liberation and bringing my community closer to healing," Johnson says, "My desire is that this piece be moveable, both literally and emotionally." @ThaBlackIceQueen
is a New York City based actor / director / writer from Atlanta, GA, a Phi Beta Kappa graduate of Spelman College, and an alumna of American Conservatory Theater's M.F.A. program. She is thrilled to return to the Bay Area for her directorial debut with BATCO and to remount The Crooked Room, which she directed and co-devised with Jerrie Johnson in A.C.T.'s Sky Festival in 2017.

The Crooked Room was originally inspired by Melissa Harris-Perry's quote, "When they confront race and gender stereotypes, black women are standing in a crooked room, and they have to figure out which way is up." Adrianna seeks to contemplate how Black and POC women navigate the intersectionality of oppressions we weather while also facilitating a healing artistic process leading to greater self-awareness.

As a writer/actor, Adrianna co-authored an original adaptation of Black Orpheus at A.C.T., which she performed in at the Yerba Buena Gardens Festival in 2015. She also co-authored A Subtlety: The Sugar Play, a magical satire exploring the impact of Sugar on Black history and bodies.

Regional Credits: Hamlet, A Christmas Carol, Last Days of Judas Iscariot, Las Meninas, Love and a Bottle, Topdog Underdog, Sunset Baby (A.C.T.), Flex (Berkeley Rep Ground Floor), Noises Off (Two River Theater), Romeo and Juliet, Taming of the Shrew (Chautauqua Theater Company); Measure for Measure (Actors' Shakespeare Project) Television TV credits: "Little America" (Apple/Universal Television), "Lincoln" (NBC Universal) .
IG: @adriannamitchell_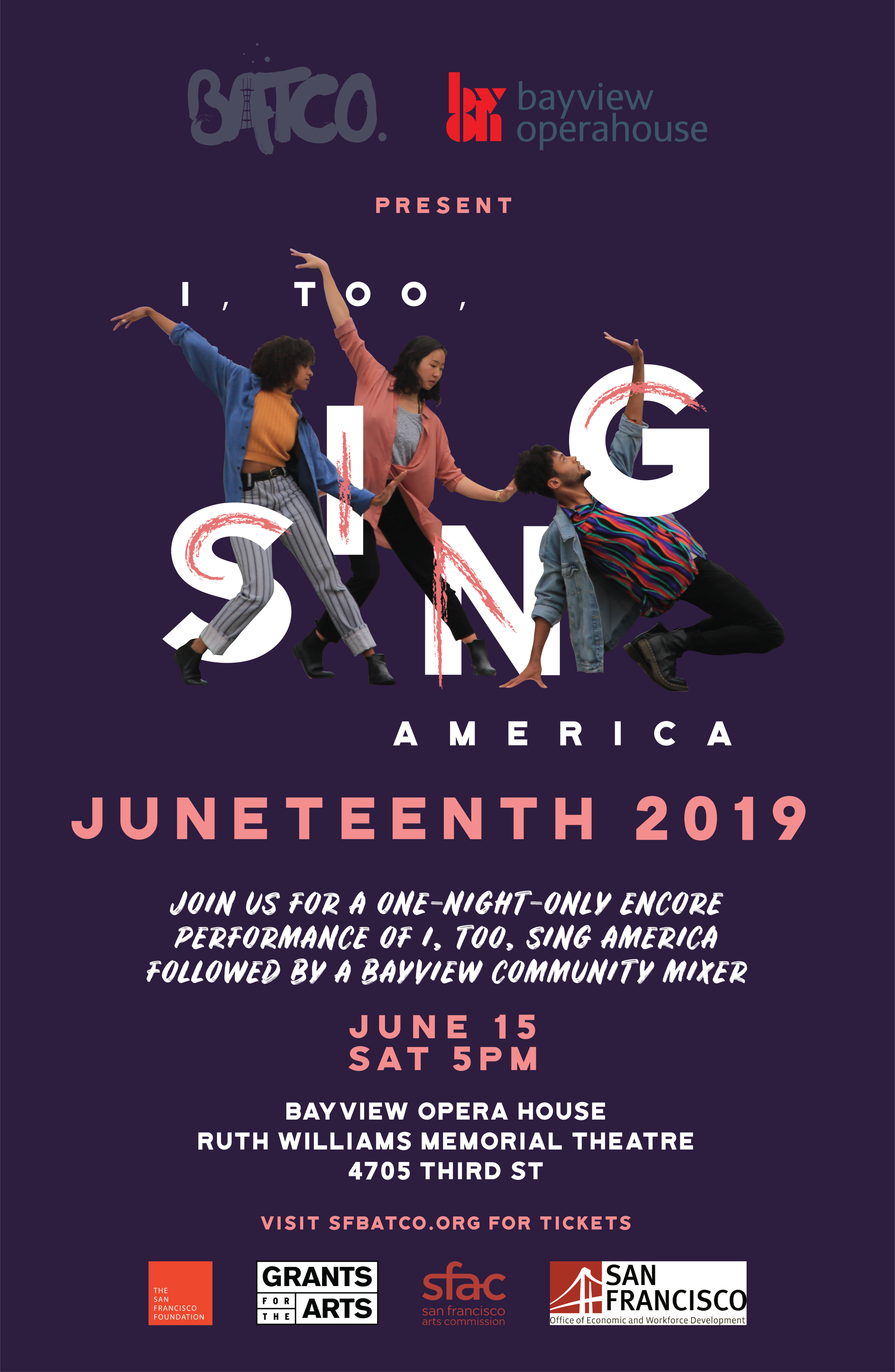 In celebration of Juneteenth 2019, The Bayview Opera House Ruth Williams Memorial Theatre and the Bay Area Theater Company (BATCO) are producing a one-night-only encore performance of BATCO's I, Too, Sing America. Followed by a Bayview Community Mixer, meet and greet your friends and neighbors.
For tickets, head to itsa_bvoh.eventbrite.com
THANK YOU FOR JOINING US FOR A SUCCESSFUL RUN OF "CHATROOM"