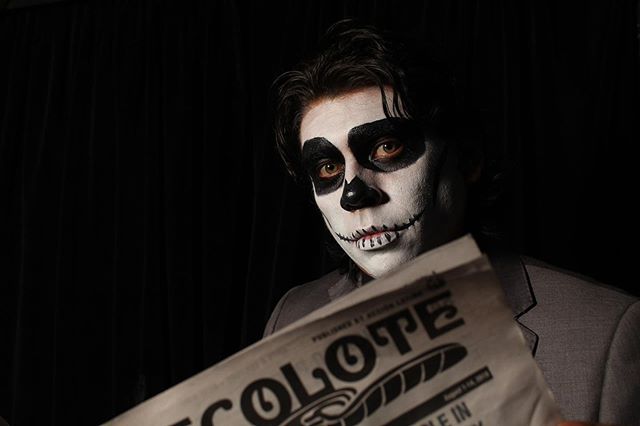 OPENING WEEK! RUNS OCT 17 - NOV 3
What would you risk for a better life?
Just ask death.
Imagine a telenovela mixed with some dark comedy, a shot of political activism, and some gut-wrenching farcical moments.
Join us for a medley of music and the macabre at our new Latino folktale, Death and the Artist. Get your tickets today!
Death and the Artist Trailer is Here!
Get a sneak peak at our upcoming production celebrating Latino culture at the Mission Cultural Center from October 18 to November 3. Previews October 17!

Tickets $40. Seniors and Students $25.
Donate $15 or more to sponsor a student. Your generosity gives Bay Area youth access to see our shows and take part in our workshops.
Inspire the next generation of performers and theatre-goers - make a gift to SF BATCO today!
Know someone 7-24 who loves theatre? Get a $35 2019–20 Youth Season Pass!
If your child or student is between ages 7-24 and they love the buzz of live theatre, then the 2019-2020 Youth Season Pass is for them.
For just $35 ($450 value!) the new Youth Season Pass gives people ages 7–24 access to select shows from a collective of Bay Area theatre organizations known as the African American Theatre Alliance For Independence group: SF BATCO, African-American Shakespeare Company, AfroSolo and Cultural Odyssey! We're also creating special youth-focussed programming this season too. There's limited availability so get your pass now!
Young Thespians Theatre Lab, Integrating Drama, Music and Movement (MAPA)
Have you ever seen a play, TV show or a movie and think, "Hey, I can do that!" This class is a great opportunity for aspiring young performers who are interested in getting their feet wet into the acting world. Led by Marcelo J. Pereira, Artistic Director at SF BATCO, Young Thespians Theatre Lab offers high-quality performing instruction integrating drama, movement, and music, as well as best practices for auditions from etiquette to material selection.
Fall skill-building classes culminate in a spring performance of a full-length production on Brava's Main Stage.